About Brett J. Trout, P.C.
Brett J. Trout P.C. provides legal services in the following areas:
Patent, Copyright and Trademark
We provide a full line of intellectual property services, ranging from procurement to protection of all types of intellectual property. Our intellectual property audit is a low-cost way to inventory valuable and intangible assets of your company.
E-Commerce
From implementing a website to conducting online transactions, there are many legal issues that a company must address. By identifying these issues early, a company can avoid pitfalls and move forward with the business of servicing its clients.
Software Licensing
Unlike most contracts, software contracts deal with intangible rights, which could easily be lost if not properly maintained. We draft and negotiate contracts relating to software development, licensing, protection and maintenance. As nearly every software deal is different, we focus on your specific needs and draft appropriate contractual language to accomplish your unique goals.
Attorney Profile
Brett J. Trout
Iowa Patent Attorney
Position: Member. Born Des Moines, Iowa, July 28, 1966; admitted to bar, 1992, Iowa and U.S. District Court, Northern and Southern Districts of Iowa; U.S. Supreme Court; U.S. Court of Appeals for the Federal Circuit; registered to practice before U.S. Patent and Trademark Office.
Education: Grinnell College (B.A., Chemistry, 1988); University of Iowa College of Law (J.D., with distinction, 1992).
Articles: Editor, Journal of Corporation Law, 1991-1992. Author: "The Ethical Lawyer and the Tao of Technology" 48 Creighton L. Rev. 709 (2015). Author: "A Patient Seeks a Portion of the Biotechnological Patent Profits in: Moore v. Regents of the University California," 17 J. Corp. L. 513 (1992).
Member: Iowa Academy of Trial Lawyers, Blackstone Inn of Court (Past President). Polk County, Iowa State Bar Associations; Iowa Intellectual Property Law Association (Past President).
Practice Areas: Patents, Trademarks and Copyright Law.
Books: Cyber Law: A Legal Arsenal For Online Business
Internet Laws Affecting Your Company
Internet Laws Affecting Iowa Companies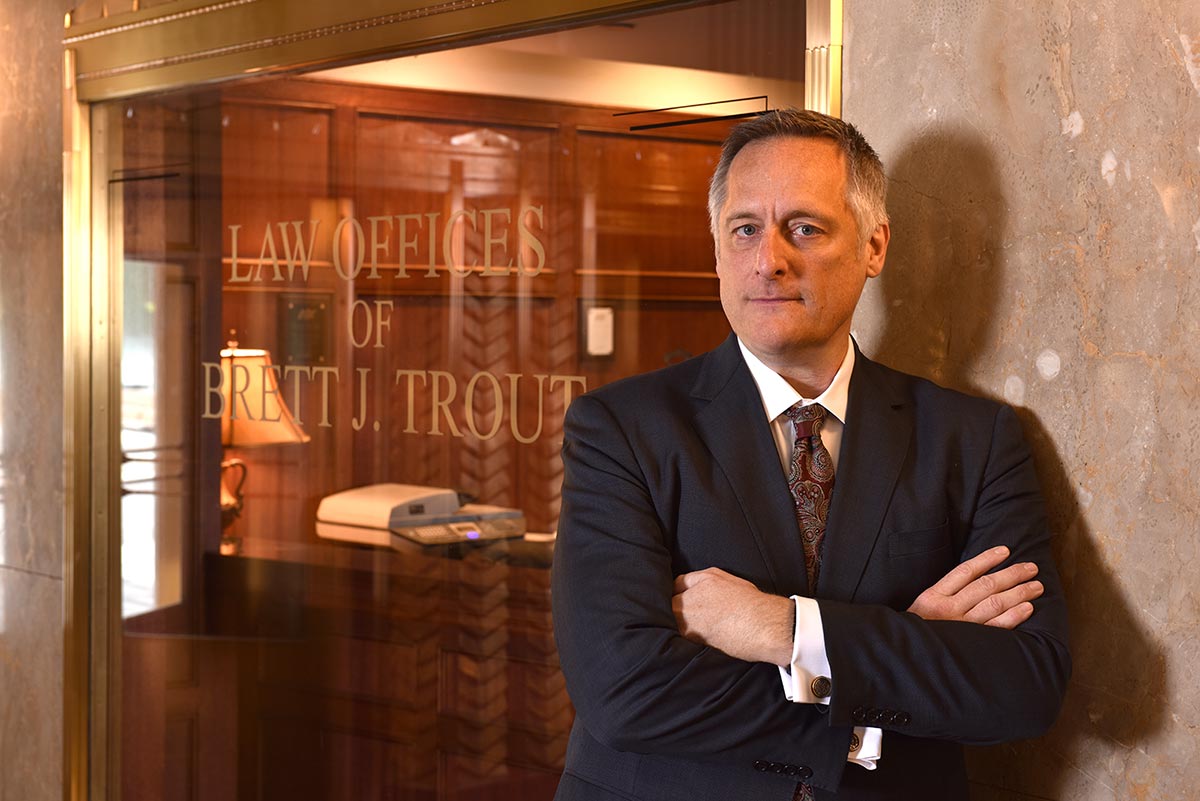 Brett J. Trout